Discussion Starter
•
#1
•
What is @ES ?
@ES (or @ruantec Entertainment Software) is basically an advanced all-in-one frontend/media player, with support for a significant number of emulators.
Feature list?
*too long, still enumerating ;p *
List of emulators compatible with @ES?
- ePSXe
- PCSX2
- nullDC
- Visual Boy Advance
- ZSnes (with QT GUI)
- and more... (list in progress)
Cover packs currently available:
-
SEGA Genesis - 32x
-
Super NES
System requirements:
These are not set in stone, and would vary wildly depending on the actual use and overhead of the 'grabbed' applications, but these should allow a comfortable experience already for most ressources-friendly emus (if your system meets the requirements for the emulators you are running, @ES generally has little overhead):
- A 2 ghz processor.
- 512 megabytes of RAM
- a decent graphic card
- a modern Windows OS (XP or Vista)
How do I use it ?
Reading the readme.txt accompanying the releases is very recommended, for starters.
*youtube demonstration video to expect*
Quickie setup guide by ShadoVV:
THIS GUIDE IS TO HELP PEOPLE SET-UP @ES FOR FIRST TIME USE
* STEP 1
------
Go to the "
[email protected]
" file and right click it with your mouse and choose to open it with notepad"
* STEP 2
------
Now looking at the first picture below you will see the folder path to the .exe of the emulator NullDC after the "|". Change the path to reflect where your exe is for NullDC but do not put the .exe file it self here (That is in the next step)
For example on my computer I click D drive > Emulator's > NullDC Beta and this where I find my nulldc.exe
So in my case this section after the "|" reads D:\Emulator's\Nulldc Beta
* STEP 3
------
Now if you look at the 2nd picture you will see circled bit tells @ES what the name of the .exe file is!!
In this case you will see nullDC=nullDC_100b1_6.exe as the default setting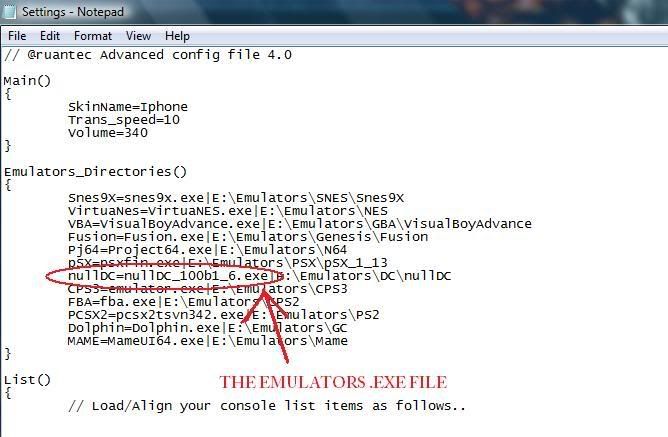 Now ignoring the "nullDC=" part at the start we have "nullDC_100b1_6.exe" as being the name of the .exe file to run nullDC.
Change the part after the "=" to be the same as the name of your .exe
* STEP 4
-------
NullDC is now set-up!!
Just repeat these steps in each line until you have all the emulators you have that @ES supports set-up and make sure you click save when you are finished!!
* STEP 5
- adding roms to @ES
----------------------------
To add a set of roms open @ES, go to games and choose the console that you wish to add roms for!!
You will see a blank screen except for the words "Drop your folders containing your files here"
Now make sure your roms are first NOT zipped (@ES does not support zipped roms, The only exceptions to this being in the MAME, FBA and CPS3 sections, only these 3 emulators support zipped files in @ES)
Having made sure your files meet this rule, drag the FOLDER containing the roms to the TOP half of the @ES screen (Do not try and drag the roms themselves as this will not work!)
After a very short moment (Usually just a few seconds your games should be appear on the screen as a cover-flow style look)
Again repeat this step for all the consoles you wish to add roms for!!
End note: This is a tentative draft for FAQ. Feel free to suggest more to add.
@ruantec: feel free to edit and add info as you see appropriate.