Discussion Starter
·
#1
·
Hey everybody.
I bought an Iphone 3G 8GB Black last month, I didn't buy it mainly for the purpose of playing games but is a nice added feature imo.
I am used to playing mobile games, had a lot of them on my Sony Ericsson W580 and I have a PSP too, reason is my work is boring but I don't get to bring my psp.
As many would say, who cares the iphone is not a gaming platform, I used to think that too but looking at so many games that are/will be developed for that might say the contrary. Even some online review sites like IGN are taking this into account.
Currently there are 10,000+ apps in the Appstore (Apple marketplace for games and apps on the iphone/ Ipod Touch), though I must say that 9,900 are rubbish.
For me is a new experience because I haven't played an accelerometer based game before (yeah no wii :emb
, is not something revolutionary but is kinda nice to try out.
Apple or I better say third party developers are taking the nintendo route of making simple yet addictive games, some are ports of nintendo ds while others are made especifically for the iphone using it's features like the accelerometer and it's multitouch interface.
Prices ranges from Free, 0.99 to 10.99 +-. Most games have a lite version which is free to let you try the game and the premium with more content and bonuses which is the one they charge for. IIRC Apple takes 30% while the devs take the 70% rest.
From my personal experience, like I said is a novelty to use accelerometer to ex: steer a car but I have to remember that these games are not made for large gaming sessions like PSP games, tapping a flat screen can get really tiresome.
Also battery life is not so good, I have to charge my phone like 2 times a day when I play a lot.
Another thing is that some games consume a lot of memory, and the iphone sometimes does not close an app entirely so when you are going to run a game, you will have to restart the device so that it clears the cache.
This is a fast growing market and some big companies want a piece of the pie too, Sega already have some titles like Monkey Ball, EA have a lot too, like a version of the Sims, even Square Enix brough a towers defence like game called Crystal Defenders.
A few standouts games that I like are these.
Rolando: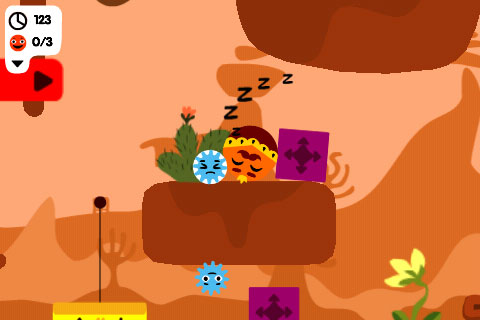 Rolando is a platform puzzle game set in Rolandoland. Rolandos are small round creatures who seem to worship you (aka "Finger") and ask for your help to defeat the shadow creatures that have invaded their land. Your job is to free the Rolandos from evil across 36 levels of play. The primary goal of each level is to free a minimum number of the Rolandos by getting them safely to the exit while avoid bad-guys and circumventing obstacles.
This is quite fun and is art is resembling other games, but it is really good to play it on a multitouch interface because you can make some gesture like pinching and swiping to control your chars.
Another game is this.
Hero of Sparta
In this $9.99 title, you play King Argos, a Spartan hero, who must battle his way through this epic action-adventure. Your character is controlled in 3rd person perspective with an on-screen analog stick and Block and Attack buttons. The graphics and 3D environment are quite impressive and perhaps amongst the best seen on the iPhone. While I'm normally not a fan of cut-scenes, Gameloft ties the gameplay especially well with their cinematic scenes to add to the grandeur of the experience.
The first you would think is this is a God OF War ripoff, it is but is very entertaining and the gameplay is good, the only thing is the story is kinda generic and forgettable. Made by the mobile game devs veterans Gameloft, who made the Prince Of Persia classic for PS3 and Xbox360.
And my racing game is:
Asphalt 4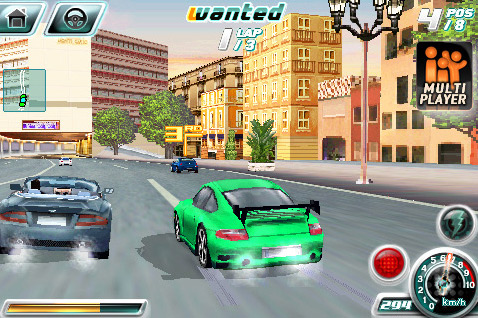 Asphalt 4 is more of an arcade-style racer akin to the Ridge Racer series than a realistic, simulation-style game such as Gran Turismo. The goal of the game is to acquire cash by way of savvy play style, goal completion, and more or less breaking the law: "Perform illegal acts to get cash, boosts, and live TV time!" New venues and performance tweaks are unlocked along the way as cash is accumulated.
Again by the veterans at Gameloft, I've been playing this series since the first part on my cellphone, the quote says it all.
I won't drag this thread anymore but if you are interested you can head to
Touch Arcade: iPod Touch and iPhone Games, Reviews and News
for more reviews of iphone games.
So what do you think of the Iphone as a gaming platform?