·
Ya'ver drink Brazilian bold from fkn dunkn donuts!
Left 4 Dead is without a doubt one of, if not the best pure multiplayer games to be released in 2008, with some tight gameplay, brilliant enemy design and with such simple rules for each weapon and enemy type, placing them and us as players in some truly great level design, means that the whole experience is nothing short of brilliance. There are a few things that hold it back though and I think that it can be rectified with a nice sequel:
Expand the Story
The 4 chapters are extremely short, and with good reason as to have incredibly long levels could incite boredom and ruin the desperation element that it so elegantly achieves. That being said, having a story mode to go along side it to give a bit more insight into the 4 main survivors and how they came to be together could open some new doors and allow a new found appreciation as to why we must work together as a tight unit, apart from the fact that the world is crumbling around us. It could also open up several new possibilities for increased tension and expand beyond the run and gun mentality. No doubt have another set of 4 chapters, but on to of that, a nice story mode with a slightly different approach to surviving the inevitable zombie apocalypse.
New weapon types
While the few weapon types are brilliant, giving all kinds of great checks and balances to the experience, it can be said that a few different types could be introduced to create a new and exciting experience. Sure, keep the existing weapons, but perhaps add a few new types, such as trip wires or the ability to create some traps for the horde behind us, some makeshift weapons, like a bull horn that can be deployed to attract a whole group, while the survivors sneak around behind them.
Grander Setpieces
Two of the set pieces (the last stronghold in each chapter) were rather samey, with the survivors holding out inside a house, whereas the helicopter and waiting for the plane to fuel up were nice and tense positions to hold out in, but why stop there? Perhaps introducing some more environmental damage, or ending set pieces that could change as walls collapse, or areas become cut off, or even on a moving train could introduce some new challenges.
Introduce a new enemy type or two
Left 4 Dead had an enemy type removed called the screamer, a guy in a straight jacket that looks rather menacing like the witch, which only says to me that at one point an insane asylum was perhaps considered for a mission. Having a few types of zombies, while maintaining the existing set would be a nice addition.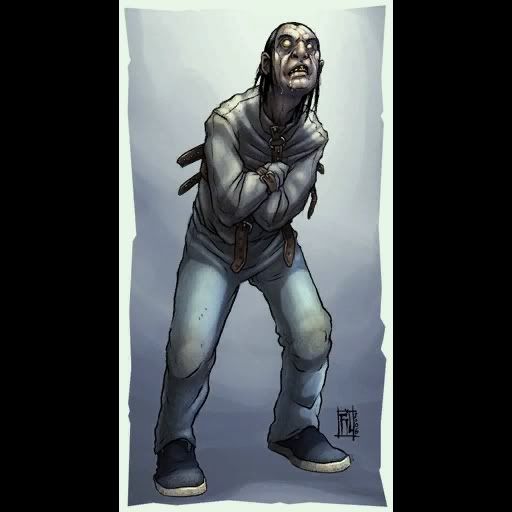 The Screamer, what sort of trouble could he get up to in a sequel?
​
Make the AI director a little more random
The AI director is great and all (especially with frustrating the player on the hardest difficulty) but patterns begin to emerge, especially with Tank placement and when to expect special zombies. This must be partially due to level design, but having everything as more random would be greatly appreciated. Also, the survivor AI on the hardest difficulty becomes a little unbearable at times, as they never throw grenades, have a habit of putting their faces in the middle of your crosshair and never duck when in front of you. If they can tighten this up, then the whole experience will be much more enjoyable, especially for those without online capabilities.
These are only a few examples that I can think of right now, but for those Left 4 Dead veterans around, how would you design the sequel?