Discussion Starter
·
#1
·
Having a lot of trouble getting this game to a playable(graphics/audio) state.
Comp specs:
Core 2 duo 6400
2gigs ddr2
Geforce 7900 GS
I can either use pete's opengl 1.76, or an (I'm sure way out of date) d3d driver from him because my first smaller problem is that no matter what settings I try(and everything from my nvidia control panel is off, and I've tried setting the affinity to only one core), opengl2 drivers take like 30-60 seconds just to get through the squaresoft opening logo, it's literally a slideshow. But ok, whatever, we'll use different drivers, it's not the end of the world.
One of the biggest problems however - and I want to start out by saying, the 3d models look like this REGARDLESS of my plug-in or settings - is that anything 3d looks absolutely UGLY. It's seriously like a Picasso painting.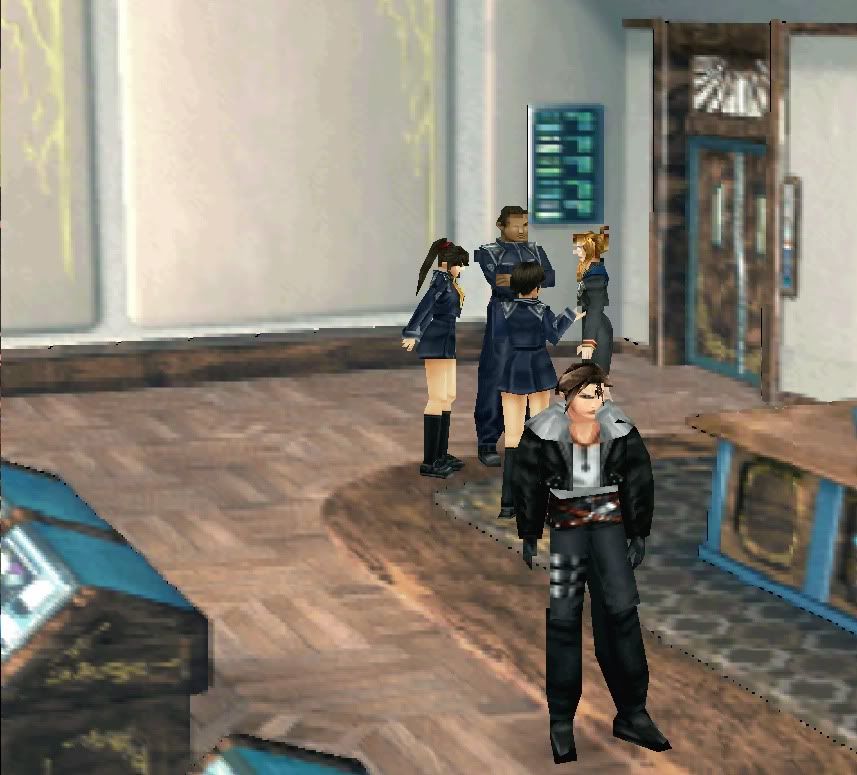 (Ignore anything 2d that looks funny, not a problem, I was just going through different settings for the 3d models)
See the faces? And for example, Quistis' hair...ugh. It's like, blocky? Well, imagine it moving, and the hair is constantly disappearing and reappearing when it moves from block to block. Eyes are getting distorted onto a mouth. And the whole affair is absolutely TERRIBLE in motion. This screenshot doesn't do it justice. I had just tried MGS the other day, it didn't quite work because of the famous cut scene super slowdown, but the game itself looked VERY good and lightyears beyond this. That one specifically I was using the opengl 1.76 drivers with a lot of the settings up higher.
The next minor problem is some lag cutting from scene to scene and you can hear the sounds stop/skip sometimes. I'm using eternal spu 1.41. But if I can't get the graphics to look atleast remotely normal, this doesn't matter anyway. Making images from the cds might help this too, I don't know.
I was going to try it on my ps2 next. That's what I had to use to play MGS anyway. It won't spaz out like this, but the only tv I have is a 40'' hdtv, less than ideal for ps1 games without all the extra processing that something like epsxe can give(when it's not painting someone's eyes/nose/mouth as one piece =/)