Read all earlier developments from the first thread from Shendo HERE:
http://forums.ngemu.com/showthread.php?t=138170
-----------------------
Description:
ShendoXT said:

What is Chip16?

Chip16 is intended as a fairly easy to implement, well documented and community supported system which would aid beginners when writing their emulator.
This would solve many CHIP8 inconsistencies as well as undocumented features sometimes (possibly) added by interpreter authors themselves.
CHIP16 has a regular D-PAD controller with 4 buttons in contrast to CHIP8's somewhat messy 16 keys keyboard.
Chip16 is also more interesting than Chip8, thanks to a higher resolution, colour display and expanded memory.
Full specification (latest):
http://github.com/tykel/chip16/wiki/Instructions
If you have a suggestion to improve the Chip16 specification, please post it here so it can be discussed. Provide as much detail as you can.
If you have made an emulator,
game
, or other software regarding Chip16, please post it here with a link. Source code preferred
In the case of Chip16 games/demos: please post a ROM with a header.
Screenshots:
-----------
View attachment 216991
View attachment 216992
View attachment 216993
View attachment 216994
View attachment 216995
View attachment 216996
View attachment 216997
View attachment 216998
View attachment 216999
View attachment 217000
View attachment 217001
View attachment 217002
View attachment 217003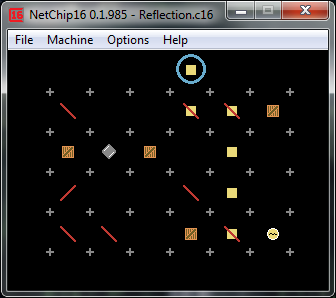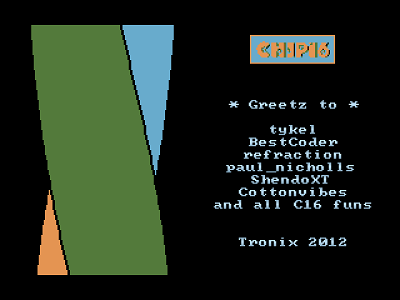 Links:
-----
Program pack (07/16/2012):
link
Program pack (03/14/2012): link
Assembler:
link
Reference emulator #1 (by refraction):
RefChip16
Reference emulator #2 (by me):
mash16
Online emulator:
Js16
Other emulators (
outdated, will not work
):
cottonCx
Command line image converter:
img16
GUI image converter:
link
Command line ROM reader/patcher (linux build, source included):
View attachment 217495
GUI ROM reader/patcher (windows build):
link